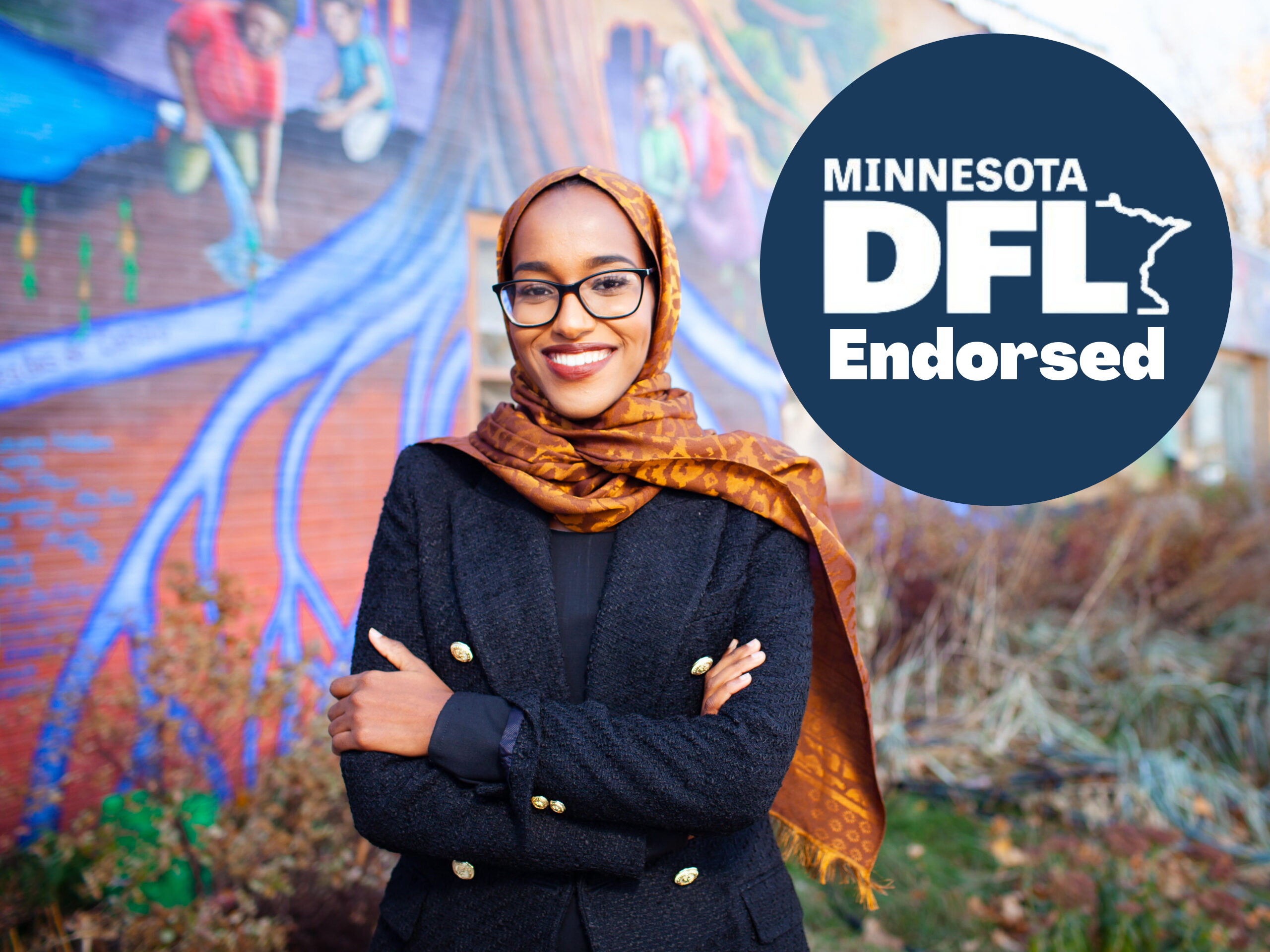 We deserve a government that makes our lives easier, not harder.
My name is Zaynab Mohamed and I'm the DFL-endorsed candidate running to represent you in the Minnesota Senate. I'm a daughter, sister, organizer, policy advocate, renter, and working-class immigrant. I believe that we can come together to create systems that make our lives easier, not harder.
After immigrating from Somalia, my family built a life for themselves on the Southside of Minneapolis. Growing up in a working-class immigrant family, my mother took on 16-hour shifts as a factory worker and my father worked two to three jobs to support our family. From a young age, my siblings and I had jobs to pay rent at the end of the month. I helped my family access healthcare, social services, immigration support, and the public school system. While attending the University of Minnesota, I helped raise my sister and care for my grandfather until we were able to access publicly-funded elder care. Like many other first-generation immigrants in our community, I have the first-hand experience of navigating the government services that impact our lives. 
During the Trump Administration, discrimination and hate crimes against Black & Brown communities reached an all-time high. The hateful rhetoric and government violence against immigrants spurred me into activism, advocacy, and organizing. I started working at an organization called Ayada Leads which is dedicated to elevating Black immigrant women into political and civic participation. I saw how crucial it was to have our collective identities represented in our government. 
Our Call to Action 
At the beginning of 2020, I was organizing to flip the Minnesota Senate to a DFL Majority when the COVID-19 crisis escalated into a global pandemic. That was when we began to see the government do things we were always told the government could not do: cover COVID-19 healthcare costs, freeze evictions, provide direct economic relief to businesses, and expand unemployment benefits. Still, the relief was not distributed equitably. Having seen what the government is capable of delivering, I began to question more and more why some of us are forced to live such difficult and punishing lives while others are able to live healthy lives and pursue their dreams.
The police murder of George Floyd shocked the world and forced us to look at the injustices ingrained and unchecked in our daily lives. This moment led me to my work as the Community Advocacy Director at Council of American Islamic Relations (CAIR-MN), one of the largest civil rights organizations in the state of Minnesota. Through my work at the Council of American Islamic Relations (CAIR-MN), I have fought for meaningful statewide legislation to hold police accountable and create a system of public safety designed for all. I worked with a coalition of advocates, organizers, legislators, and most importantly, families who had lost loved ones to police violence. We spent weeks together at the Capitol during the 2021 legislative session lobbying legislators to take action by passing eight common-sense bills to expand public safety and strengthen police accountability. 
Above all, what I have learned over the last two years is this: it's not that the legislature cannot work for us, it is that it will not work for us while we stand on the sidelines. There are many powerful interests that govern the course of our state, and the one thing they all have in common is that they all have a seat at the table. I am running to be your voice in the room, your representative sitting at the table, who fights for our shared values as Southsiders, immigrants, BIPOC communities, and working-class Minnesotans all over the state. 
I never thought I would be called upon by my neighbors to serve in the Minnesota Senate. I have always felt a strong sense of responsibility to care for and serve my community, but women with stories like mine are rarely represented in elected leadership. I believe we can change this, come together, and do what is best for our district to thrive.

Zaynab Mohamed
she/her/hers